Are you planning to drive to Mexico? With our guide, you don't have anything to worry about! Learn how to plan your car road trip, what are the best Mexico vacation spots, and some tips to make your experience more enjoyable and memorable.
Checklist for your Car Road Trip
Before your Mexico trip, these are some of the tips that you should consider:
Plan your route and create an itinerary to save fuel and avoid missing important spots. If changes occur during your trip or you want to add new destinations, make Google Maps your best friend. Take into account ask locals for further information if you need it.
Depending on the season, you should consider warmer or colder clothing. Research the Internet for the weather and the types of activities you can do before packing.
Try to avoid nocturnal car road trip to reduce travel risks. Additionally, be aware of speed bumps along the route or livestock.
Drive at toll highways and carry cash to pay taxes. These routes are more secure than free highways even when there is more traffic at the mandatory stops.
It's important to be aware of police and military checkpoints along the road and have the proper documentation to continue your journey without major inconveniences.
Whether you drive your own car or rent, it's mandatory to purchase car insurance in Mexico even if you already have one in the United States. For your Mexico trip by car, you need to request a temporary vehicle importation permit a few days before crossing the border.
If you need emergency roadside service, you can call the local number 078 to get it to work. Remember to purchase a Mexican phone line at outlets or activate your roaming service to make sure you can communicate during your trip.
To enter Mexico and receive the tourist visa (FMM), present your valid passport. If you are crossing the border, you must provide authorities with your vehicle registration and driver's license.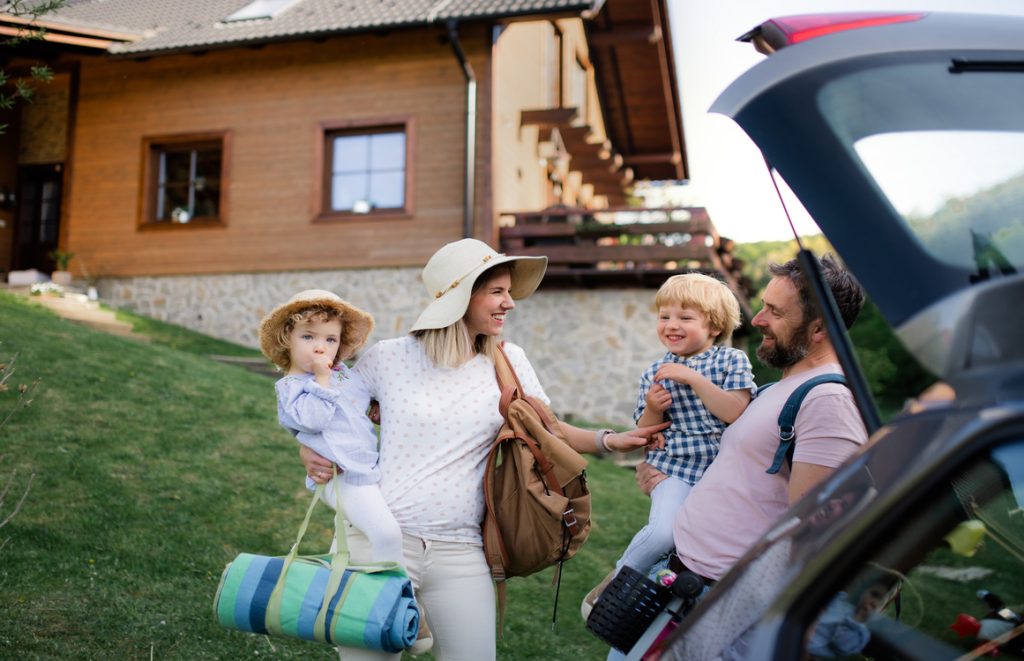 A Must-Stop in your Mexico Trip
Baja California: from the border to Los Cabos
Sea landscapes, rock canyons, whales, and a long coastline are some of the things you might find in Baja California as part of the best Mexico vacation spots. In Tijuana, you can visit the Valle de Guadalupe and then visit Ensenada for a wine and delicious seafood adventure. In the south, La Paz is home to several animal sights, including whales and dolphins. The extended Los Cabos area offers beautiful sunsets for extreme sports like windsurfing.
Riviera Nayarit: from Puerto Vallarta to San Blas
In Jalisco, you can visit several beach towns along the coastline. Then you have Sayulita, San Pancho, Lo de Marco and San Blas with a very friendly atmosphere. Here there are beautiful places to eat and full of tourists from all around the world who can relax and taste Mexican seafood. Mazatlan and Tequila are also part of this car road trip, through which you can try the most famous Mexican drinks by visiting distilleries of well-known brands. As with most things to do here, you can hike, surf, fish, and learn more about Mexican crafts and arts in the area.
Michoacan: from Morelia to Sierra Chincua
The state has wonders such as Morelia with its famous tacos, colonial streets, La Catrina crafts, and a Monarch butterfly forest. Among its various magical towns, and places with a rich Mexican heritage, you'll find archaeological zones, majestic cathedrals, natural parks, and beaches.
San Miguel de Allende
Guanajuato state is characterized by its colonial vestiges and mining towns. In San Miguel de Allende, you'll find one of the most well-recognized cathedrals in the country alongside colonial architecture, cobblestone streets, colorful houses, and mural art.
From Mexico City to State of Mexico
As Mexico vacation spots, Mexico City combines Spanish architecture and Aztecan heritage with some of the best food in the country. From its memorable angel to its Revolution monument, the Mexican capital has a lot of activities for you whether you travel with your family or on your own.
Here you can choose from 200 museums of history, art, technology, biographical, monuments, traditions, and more. Xochimilco and Coyoacan in the south of the city are must-visits, given their mariachis are playing on boats, churros, and historic buildings.
One of the most beautiful locations to visit in CDMX is the Bosque de Chapultepec, a nature park with a fair, monarchic castle, a lake with boats, the presidential residence, museums, and ral other attractions. But if you're looking for more outdoor adventures, you can hike or bike between the Popocatepetl, Iztaccihuatl, Ajusco, and Desierto de Los Leones Mountains.
Outside Mexico City, you'll find the pyramids of Teotihuacan and ancient Puebla as well, where you can learn more about traditional Mexican cuisine like mole and pozole, indigenous crafts, and Mexican art at just one hour of distance in a car road trip.
Oaxaca
Art, alebrijes, delicious traditional food, and other cultural features are present in archaeological sites and well-known looms. Here you can visit Monte Alban or Yagul to get a glimpse of indigenous tribes and their heritage in the Americas. This state is also one of the most popular destinations, given its beautiful beaches and sunsets, which San Diego, Zicatela, Mazunte, Zipolite, and Puerto Escondido are a highlight.
Yucatan
This peninsula is best known for its highly visited destinations Cancun and Tulum, but even more so for its archaeological sites, turquoise beaches, and one of the seven wonders of the world, Chichen Itza. In Yucatan, you can swing around cenotes, which are water wells with a magical meaning: snorkel in the Caribbean Sea or visit Spanish heritage sites at Campeche and Valladolid. In the East, Isla de Mujeres, Cozumel, and Playa del Carmen are must-visit destinations to enjoy beautiful landscapes and more Mexico vacation spots.
Chiapas
Chiapas is known for its natural beauty and historical sites. Sumidero Canyon and Ocote Biosphere Reserva have waterfalls and a jungle for outdoor adventure and extreme sports. While San Cristobal de las Casas and Tuxtla offer Spanish colonial vestiges, Palenque is a Maya city mostly in ruins, but just as shocking. During this car road trip, don't forget to try a tascalate, which is a hot beverage made of corn and chocolate.
Get a Car Insurance in Mexico
As we mentioned, to drive a car in your Mexico trip, you need to purchase a car insurance. To do so, you need to have some documents up to date. This includes a driver's license or an international driving permit, the vehicle permission or rent contract.
According to your decision of driving on your own or renting a car, you'll also have the option of purchasing the insurance in Mexico via online or at the airport/with an agent once you arrive. You can check here the differences, benefits, and disadvantages of these two methods of acquiring car insurance.
If we've convinced you with any of these road routes, we suggest you go for a third-party liability, which is the cheapest and basic. Then, you can select the time of duration based on your stay in the country and add some especial features based on your car road trip. In addition, even when it sounds obvious, we encourage you to check the car before starting your trip.
In the end, we can suggest where to go and what to do there, but you are the one who will experience it. So, a little extra we can tell you is that you will have the best partner and insurance on the road with us during your visit to Mexico vacation spots. Get your Car Insurance and drive to your new destination protected!